How do I clear my cache and cookies?
Sometimes, a web browser may get stuck in a loop or incorrectly display a webpage because it can't process website data known as cookies, or other information stored in its cache.
Often, simply clearing the browser's cache and cookies will fix the problem.
Select your browser:
When done, close and re-open your browser.
Internet Explorer
Click Tools at the top of your browser window.
If the Tools menu is hidden, press the Alt key on your keyboard to make it appear.
Select Delete Browsing History.
Un-check the box next to Preserve Favorites website data.
Make sure Temporary Internet Files, Cookies, and History are checked.
Click Delete.
Restart Internet Explorer.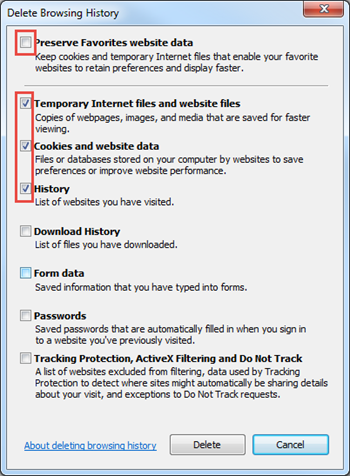 Mozilla Firefox
Press the Alt button on your keyboard.
Select History, then click on Clear Recent History.
Click the dropdown list next to "Time range to clear:" and select Everything.
Under "Details," check Browsing & Download History, Cookies, Cache, and Active Logins.
Click Clear Now.
Restart Firefox.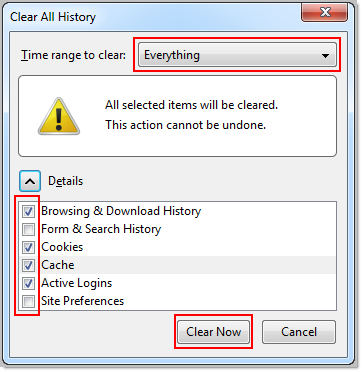 Google Chrome
While in the Chrome browser, hold down the Ctrl and Shift keys on the keyboard, and press the Delete key.
Check Browsing history, Download history, Cookies and other site and plug-in data, and Cached images and files.
Make sure that the Obliterate the following items from: dropdown menu says the beginning of time.
Click the Clear browsing data button.
Restart Chrome.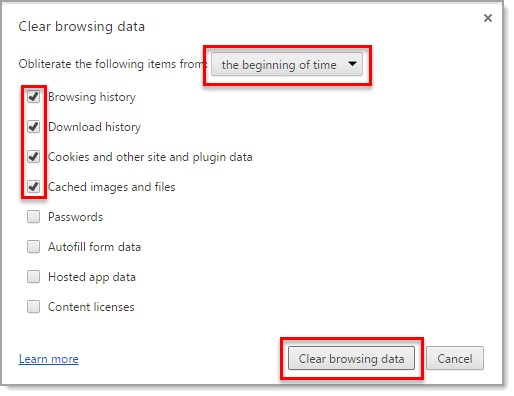 Safari (Mac)
Click the Safari menu in the top left of your main window, then select Preferences.
Click on Advanced in the upper right corner of the new window.
Check the box to Show Develop menu in menu bar, then close the window. The Develop menu should now appear in the Safari menu bar.
Click the Develop menu, then select Empty Caches.
Close and re-open your browser.