What is the Big Fish Casino VIP Rewards Program?
The VIP Rewards Program offers exclusive benefits for playing Big Fish Casino.
Earn VIP points to get greater purchase bonuses and other benefits.
The table below shows the current VIP tiers and their benefits. You can also see how many VIP points are necessary to reach each tier.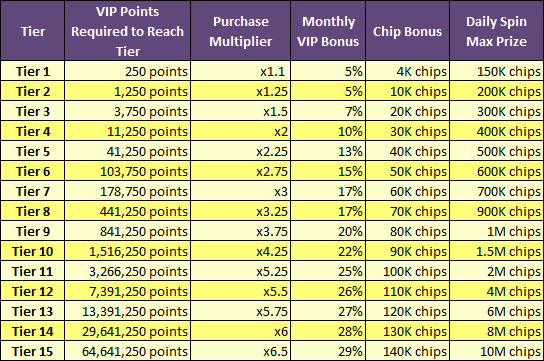 Are there any other things to be aware of for the VIP Program?
Yes, there are a few important things to note:
Once you reach a given tier, you will remain at that tier until you reach the next tier (up to tier 15). In other words, tiers do not reset.
You can always see your full chip count at the bottom of the in-game store.
Terms and Conditions:
When you access or play Big Fish Casino, you automatically agree to be part of our VIP Rewards Program. If you do not agree or are not comfortable with any part of the program, please let us know by contacting Customer Support. Big Fish reserves the right to modify or revise the terms of the VIP Rewards Program, so it is important that you periodically check here for updates. If we revise the terms, such revisions will take effect immediately upon being posted within Big Fish Casino. Big Fish reserves the right to terminate your participation in the VIP Rewards Program at any time for any reason.